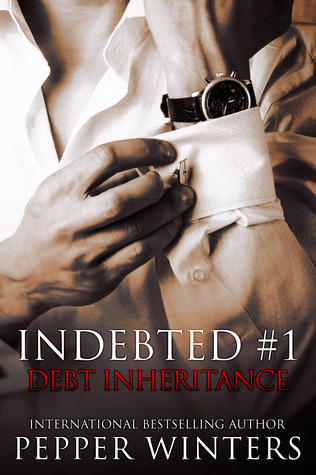 Written by Pepper Winters
Published on August 18, 2014
"I own you. I have the piece of paper to prove it. It's undeniable and unbreakable. You belong to me until you've paid off your debts."
Nila Weaver's family is indebted. Being the first born daughter, her life is forfeit to the first born son of the Hawks to pay for sins of ancestors past. The dark ages might have come and gone, but debts never leave. She has no choice in the matter.
She is no longer free.
Jethro Hawk receives Nila as an inheritance present on his twenty-ninth birthday. Her life is his until she's paid off a debt that's centuries old. He can do what he likes with her—nothing is out of bounds—she has to obey.
There are no rules. Only payments.
A modern day Dark Erotic Romance
Debt Inheritance is a dark erotic romance, so you have been warned.
Jethro is the kind of character I really enjoyed reading about, he is thrust into his fate on his 29th birthday, and he has to deal with what comes with it.  I don't think Jethro expected the feelings he found with Nila, and I truly can't wait to see what happens next.  This book doesn't end with what I would call a "cliffie", but it does make you want the next book that much more.
Nila is sheltered, her father and brother are always around, so she is so naïve with not only men, but the world as well.  She is thrust into paying a debt she had no idea even existed, and how she copes with that is the entertaining part of this book.  Did I enjoy Nila as a character? Yes, but only because of Jethro….I want to see what she grows into, what she will become, and in turn I can't wait to see the same for Jethro.
This book is not easy for me to review, I enjoyed it, but I have to admit…the wait just may kill me slowly.  I  am a lover of series, with that being said when I pick up the first in a series, I always wonder if it is something I will continue to read or if it is going to be a "one and your out" type thing, and I want to read the next book, but it is because of Jethro that makes me feel that way.
If dark romances is your thing, then you will enjoy this book…if this is not your usual genre, well then – I'm not sure what to tell you. 😉
Pepper Winters wears many roles. Some of them include writer, reader, sometimes wife. She loves dark, taboo stories that twist with your head. The more tortured the hero, the better, and she constantly thinks up ways to break and fix her characters. Oh, and sex… her books have sex.
She loves to travel and has an amazing, fabulous hubby who puts up with her love affair with her book boyfriends.
AMAZON * GOODREADS * TWITTER * FACEBOOK * WEBSITE * BLOG