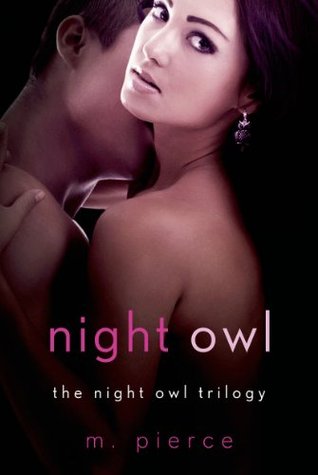 Written by M. Pierce
Published on February 11. 2014 (first published on September 6, 2013)
At twenty-eight, Matt Sky has the perfect life. He has a beautiful girlfriend, a massive inheritance, and four national bestsellers — all penned under his airtight alias, M. Pierce.
At twenty-seven, Hannah Catalano is a train wreck. Her boyfriend is a deadbeat and her job is abysmal.
Matt and Hannah meet online as writing partners. Their relationship is safe, anonymous, and innocent…
Until Matt sees a picture of Hannah. Hannah's picture sparks an attraction Matt is powerless to ignore. When circumstance brings Matt and Hannah together, the strangers begin a love story that's passionate, poignant, unforgettable, and unstoppable.
Are you Pennies excited? I am…this is the first joint review for Penny Pam and Penny Lisa. I don't know about you, but I love to see what two different people think of the same books (I guess that's why I always read reviews, both before and after a book). Anywhoo……lets get this going, shall we?
Matt Sky captured me from the start. I will admit, I am a girl who loves it when her bbf have a dirty mouth and are assertive. That first chat session they had, ummm yeah, I was hooked.
Hannah is going through a hard time in her life, she is moving back into her parents house, she has no job, and no boyfriend. Hannah doesn't realize that things just might be looking up for her when she mistakenly discloses personal information to Night Owl (Matt Sky), but it is going to take some convincing that it was an accident.
Matt is a very private person, he guards everything around him, he has his reasons. Matt did seem like he was going to be more of an a*s than a great bbf, but to me there was no question about it.
True their situation wasn't always pretty, Matt kept secrets, big ones, but as I said before, he had his reasons.
I will admit that the epilogue killed me, so if you haven't read the book I am giving you fair warning, I am so very much looking forward to the next book, and have been since the first time I read this book (Yes, I am a re-reader of books) and I really want to give M. Pierce a hug, then maybe a shake or two for that epilogue, but that's just me.  I give this book a 5 and if I could rate it higher, I would.
This book held my attention firmly from page one.  There was something about the writing style, pace and quirkiness of the characters that kept me turning page after page after page….late into the night.
Hannah and Matthew have a very unconventional online relationship.  They attempt to shroud their identities from one another to keep their collaborative writing project on a purely professional level.  But when Hannah accidentally sends an updated segment of the story to Matt from her personal email address, a Pandora's box is opened and Matt can't resist exploring it.
Matt has a darkness brewing within him.  He becomes very voyeuristic when it comes to Hannah, and the depth level of his voyeurism is revealed with the introduction of Laurence into the story.
Hannah is lovely, educated and creative.  She's not always made the best decisions where men have been concerned, but knows she wants more than what she has accepted as good enough in the past.  Her curiosity about her writing partner begins to lead her down a path that she might never have imagined she'd travel.
What transpires between these two characters over a short period of time seems perfectly natural as it relates to them and their building relationship.  What might seem implausible in other stories comes off as possible in this book.
It has been two weeks since I read this book and it is still with me.  My mind drifts back to the story, characters, places and scene while leaving me frustrated that I have to wait until later this year for the next two installments to be released.    And while the Epilogue upset some readers, it intrigues me in wanting to know what happens next.
M. Pierce, please reveal yourself so that we can have a better understanding of who wrote this work of genius.
Thank you very much for allowing us the opportunity to participate in this activity.
 Thank you for having me! – M.
 PFMTBB ~ Matt, as a writer, what made you turn to an anonymous person on the internet to become a collaborative writing partner?
 Matt ~ Mm… good question. I needed a break, I guess. A break from my more serious writing. You wouldn't know it, but I was, as a boy, an avid reader of fantasy novels. It seemed quite natural to seek a writing partner online, where I could retain my privacy and basically call the shots, and the lowbrow tenor of the story didn't bother me at all – a demon, a supernatural human, an epic quest. I felt nostalgic for the junk I'd read as a young person. Anyway, it was a whim – looking for a writing partner. A fortuitous whim. Once I started writing with Hannah, I couldn't seem to… stop. Our characters fell in love before we did. The whole thing felt inevitable. Quite a story, if you think about it.
PFMTBB ~ Hannah, how did you feel when Matt put such tight restrictions on that anonymity?
 Hannah ~ I was fine with it, honestly. There's a lot of sketchy guys online and you can't be too careful. It did seem a little funny that he was the one being so restrictive. Usually guys online want to know everything about you, you know? ASL and all that. But not Matt. I mean, that's all he told me – that his name was Matt – and he wouldn't tell me anything else, and he was adamant about not knowing anything else. He was weirdly professional. I remember trying to read into the few comments he'd write along with his story installments, trying to gauge his mood. Most of the time he just seemed annoyed.
PFMTBB ~ Matt, do you think that Hannah's accidental breach of the anonymity agreement would have ended differently if you had not found her attractive?
 Matt ~ For sure. Why should I lie? My attraction to Hannah started before I saw her picture. It started when we were writing together. That shit happens too easily online. Then, when I saw her picture, things got… you know. Way worse, or way better. Let's not kid ourselves, though. Physical attraction matters – it's a big part of romance. No amount of emotional or intellectual attraction, for me, can make up for a certain, uh… absence in the visual department. If I hadn't found Hannah attraction, one, I would have been pretty depressed (I liked imagining she was hot), two, I still would have been pissed, and three, I think we would have continued writing together… end of story. I wouldn't have pursuedher in person. I can barely stand to think about that, though. A life without her.
PFMTBB ~ Matt, what is your favorite color?
 Matt ~ Ha. It's gray. Gray for clothes, black for cars.
PFMTBB ~ Hannah, how did it feel to move back home at 27?
 Hannah ~ Totally demoralizing. I needed to get my life in order, to get back on my feet financially and emotionally. And for that, I needed my parents. That's never easy to admit. 27 is pretty damn close to 30, and most 30-year-olds I know… have kids, houses, marriages, careers. Uh, health insurance. Markers of social legitimacy. I was embarrassed to be moving home, but also incredibly grateful that I had a home to go to, you know? Not everyone has parents who will take them back in like mine did. If not for Matt, I'd probably still be living with my parents. And there's no real shame in that, even if I felt some because of societal standards.
PFMTBB ~ Matt and Hannah, what is the significance in your online names Night Owl and Little Bird?
 Matt ~ She made me get Skype.
Hannah ~ I did not! You're such a dork.
Matt ~ Cute when you're angry…
Hannah ~ Such a charmer, Matt.
Matt ~ Mm. I'd be happy to charm your—
Hannah ~ Okay! Let's answer the question. So, my Skype name just comes from the bird as an icon, which is kind of a meaningful symbol in my life. To me, birds represent freedom and peace. So many things. I've owned a lot of bird knickknacks and jewelry over the years. And I made the Skype name when I was younger. I used to use Skype to video chat with my family when I lived in Washington.
Matt ~ She didn't really make me get Skype. We needed to chat about our collaborative writing thing, though, so I made a new username – my actual username contains my real name, which I didn't want her to have. When I posted my "ad" seeking a writing partner, I titled it "Night Owl seeking writing partner." I stay up all night most nights; it's a thing with me. Sleep difficulties. Anyway, it seemed kind of funny that her username was little.bird. Owls prey on little birds, right?
Hannah ~ You kind of preyed on me.
Matt ~ Mhm, whatever you have to tell yourself baby…
PFMTBB ~ Matt, what was it about the camping trip that was the turning point in your relationship with Hannah and caused you to break things off with Bethany right after?
 Matt ~ You ask good questions. I'm not sure I can even answer this. Not sure I know. Things were getting more intense with me and Hannah, but intense sexually… not emotionally. That started to change on the Fourth of July. Our sex that day was more than sex. It was intimate. I wanted to tell her I loved her, though it seemed too soon. But the camping trip? That was the day I realized I could have fun with Hannah. Actually do things together, enjoy the outdoors together, spend a whole weekend with her. And it wasn't enough. I realized I wanted more. More of her in my life. So, the realization that it was more than a fling… necessarily became the realization that I had to end it with Bethany.
PFMTBB ~ Hannah, why do you suppose it was so easy to give yourself over to Matt and his demanding ways?
 Hannah ~ Most of my ex-boyfriends were aimless, unmotivated types. Lazy. They complained about their jobs a lot and lacked passion and drive, they had bad work ethics, etc. So, they were hard to admire, especially as time passed and the infatuation of a new relationship wore off. With Matt, that was… completely different. He took charge in every way. There is nothing indecisive about Matt. He knows what he wants in bed and out of it. And sure, that's a little frustrating sometimes – he can be stubborn and bossy – but it is SUCH a nice change from the wishy-washy guys I dated in the past. Plus, I'm a naturally passive personality, so it gives me pleasure to… you know… yield control. (Blushing now.) Let's just say Matt's demanding ways clicked really well with my personality. And… I've never wanted someone the way I wanted him.
PFMTBB ~ Hannah, how did you stay strong when Matt pushed you away when he had his breakdown? 
 Hannah ~ That was tough, not gonna lie. Matt basically shut down after his breakdown. No matter what I did, I couldn't seem to bring him out of his misery. I love him so much, though. Love kept me strong. I knew that he would come through his rough patch. I also knew that if he didn't come through it, I'd still be there at his side.
PFMTBB ~ Hannah, did you begin to feel like you had come into your own when you started working for Pam?
 Hannah ~ Yes and no. No because I'm really insecure, and it was always in the back of my mind that I got the job because of Matt. Yes because I think I'm pretty good at the job… most of the time. And it's a job I've always wanted. Earning my own money, making a career and a name for myself, even moving out of home, those things gave me a much-needed sense of confidence. And honestly, so many people get jobs because of their connections – I shouldn't be ashamed of Matt's assistance. I wish I'd gotten there on my own steam, but that might never have happened.
PFMTBB ~ Thank you both for taking the time to talk with us.  We look forward to what the future holds for both of you.
Matt ~ Our pleasure.
Hannah ~ Thanks for having us!
Matt ~ You're in a good mood…
Hannah ~ Oh my god. Stop embarrassing me…
Matt ~ Mm… get over here…
M. Pierce is an avid reader, writer, and bestselling author living in Colorado. M owns a rabbit named Laurence (named after Laurence Sterne). M hopes you've sampled NIGHT OWL, Book 1 in the Night Owl Trilogy. Books two and three in the Night Owl Trilogy, Last Light and After Dark, will be published by St. Martin's Press / Macmillan in 2014.
Amazon  * Facebook  * Blog * twitter 
AMAZON * BARNES & NOBLE *
Isn't Lawrence the cutest thing ever?!