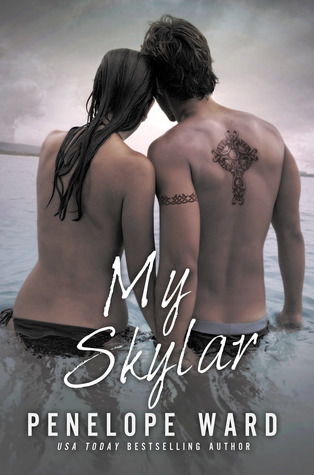 Written by Penelope Ward
Published on June 11, 2014
Skylar was my best friend, but I secretly pined for her. One thing after another kept us apart, and I've spent the last decade in fear of losing her forever.
First, it was the cancer, but she survived only to face the unthinkable at my hands. Because of me, she left town. For years, I thought I'd never see her again.
But now she's back…and living with him.
I don't deserve her after everything I've put her through, but I can't live without her. This is my last chance, because she's about to make the biggest mistake of her life. I can see it her eyes: she doesn't love him. She still loves me…which is why I have to stop her before it's too late.
My Skylar is a STANDALONE novel and a companion to Jake Undone.
My Skylar is a story of growing up, falling in love, and the fear that life brings.
When I first started reading My Skylar, I was immediately drawn in by Mitch. He is the type of book boyfriend we are all looking for, someone who when he decides he is not going to let fear keep him from the girl he loves, he goes all in.  In the beginning, life is not easy for Skylar and Mitch, she has to go through some pretty major life threatening issues, and Mitch is there every step of the way, but while fighting Cancer, Skylar is also fighting insecurities.
There were several times that Skylar let her fear make her decisions, and whether they were good or bad, right or wrong, she couldn't decide if she should follow her head or her heart.  Mitch is trying to do the right thing, while he may not have really wanted to go to college, he was fully supported by everyone he loves, so Mitch is trying to keep up his grades, his friendships, and his long distance relationship with Skylar.  After he has Skylar up for a visit, things seem to not go as smoothly as he had hoped, and it seems like his gut instinct just might have been right.
Skylar makes a decision that will forever change her and Mitch, she thinks it is for the best, but is it?
While things happen in both of their lives, their love for one another is still as strong as it ever was, but is fear stronger than love? Can Mitch get Skylar to follow her heart and not her head?
We all know that things happen in life, good and bad, and if you choose to think that things happen for a reason or not, this is a story that shows that as long as you keep what you know to be true close to your heart, things always have a way of turning out the way they should have.  Life is never easy, the road we all travel is paved with love, with pain, and a few road blocks.  What each and everyone of us as people need to figure out, is the road traveled worth the setbacks that life may throw our way? Or are we just content to stop traveling and enjoy where we have stopped?  My Skylar, is a story that makes you want to grab ahold of Skylar's hand and drag her, if need be, to the part of the road we want her at, but all we can do is read and encourage her in our own ways.
I truly enjoyed My Skylar, even though at times I wanted to slap Skylar, she has been through so much in her life that she was doing and choosing what she thought would be best for her.  I can't blame her for her fears, but when she makes a decision, and there is a pretty big consequence that comes with it, I wasn't sure what was going to happen or if I would get a HEA that I wanted.
While Mitch has to deal with a pretty nasty curve ball, that life has thrown his way, he just proves what kind of a man he is. Mitch is a top rated BBF, for me, and I'm so glad that he stuck to his own guns and did what he had to do.  Mitch now owns a piece of my heart, and he can keep it, because he stepped up when he could have chosen to turn the other way.
If you don't mind reading a book where life is not easy, and not always pretty. Please pick up My Skylar, it's worth it.
  Penelope Ward is a USA Today Bestselling author.
She grew up in Boston with five older brothers. She spent most of her twenties as a television news anchor, before switching to a more family friendly career.
Penelope lives for reading books in the new adult genre, coffee and hanging out with her friends and family on weekends.
She is the proud mother of a beautiful 9-year-old girl with autism (the inspiration for the character Callie in Gemini) and a 7-year-old boy, both of whom are the lights of her life.
Penelope, her husband and kids reside in Rhode Island.
AMAZON * GOODREADS * FACEBOOK *